click to zoom ¬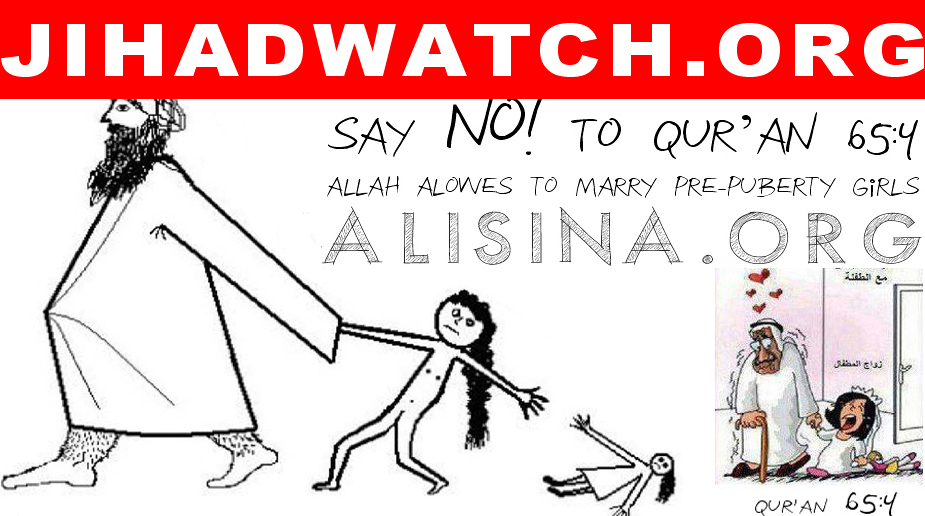 PEDOPHILIA, ALLOWED BY ALLAH AND PATRONIZED BY PROPHET
Aisha the Child Wife of Muhammad
Page 180 "… How many people would let a 54-year-old man sleep with their nine-year-old daughter? Abu Bakr did. This requires extreme foolishness. This much foolishness is only possible through blind faith."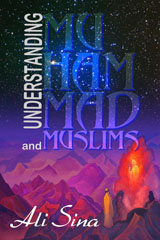 11-year-young girl:
"… marry me off … I'll killl myself … You've ruined my dreams"
(youtube update) October 8, 2013: Yemeni Child Nada (who Fled Forced Marriage) & Egyptian Cleric DEBATE CHILD MARRIAGE
2:55 Min Egyptian Cleric, "... There is a difference between contractual marriage and consummated marriage." -- Why not adopt a kid?
Pedophilia in the Qur'an (65:4, the ugliest verse)
The exact translation (below 2nd video) of this portion of Qur'an 65:4 is "Not menstruated yet"
(لَمْ يَحِضْنَ "Wallaee Lam yahidhna")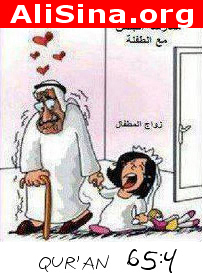 Sahih ('correct') Muslim Book 8 "The Book of Marriage (Kitab Al-Nikah)" No. 3311 "A'isha (Allah be pleased with her) reported that Allah's Apostle (may peace be upon him) married her when she was seven years old, and he was taken to his house as a bride when she was nine(lunar years), and her DOLLS were with her; …" Book 31, No. 5981 Sunan Abu Dawud, Book 41 "General Behavior (Kitab Al-Adab)", No. 4914
— Girls in puberty don't play with dolls!
Ibn Kathir

111 KB
said IN CONFORMITY with Allah's Quran 65:4
"… The same for the young, who have not reached the years of menstruation. Their 'Iddah is three months like those in menopause."
Allah, Q.
33:49
"… marry believing women and then divorce them before you have touched them … not for you any waiting period (iddah) to count"
This hamless verse makes Q.
65:4
even worse than it already is (marry pre-puperty kids),
"prescribed an iddah", i.e. when you have touched them.
Allah allows SEX for girls who
(1. are in menopause, 3. are pregnant, and
2.
)
"have not mestruated yet"
(till one-day-young infant girls)
(video)
Marriage to Minors Surah At-Talaq (65:4)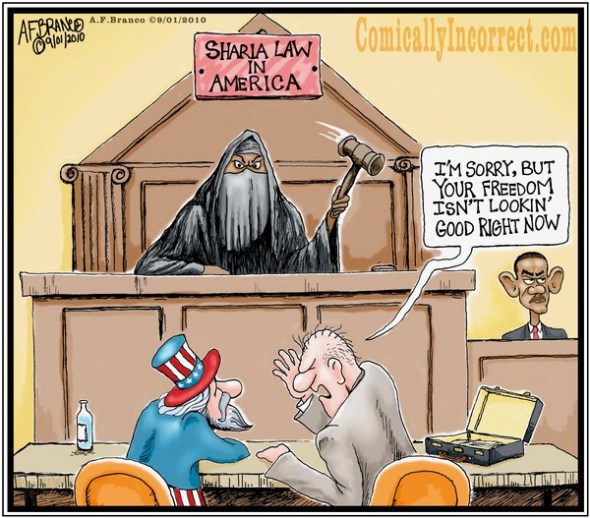 (Sheik Yer'Mami)
"MUSLIM WOMEN ARE THE DOGS, PIGS, MONKEY, ASS, VILE BEASTS OF ISLAM""
"… BABY TILTHS: 65.4 You can marry (and divorce)
little girls who have not yet reached menstruation age"
"... No God would ever allow the marriage and divorcing of little girls. Verse 65.4 is so evil, so immoral, so outrageous, so corrupt - God authorizing the rape and molestation of young girls"

Chapter 13 & 14 "The Pedophile Monster is Muhammad" 520 KB

(Print) "A Complete Guide to Pedophile in Islam" (168 KB)
"…We must reach the Muslim youth before the Jihadists reach them"
"… in the speech of the Arabs, the original meaning of nikah is sexual intercourse" (Islam awakened)

136 KB
Investigate Isalm
-6:10 min
"… and do masturbation"
—
Bukhari No. 231-3
-2:35 min Qur'an
65:4
allah's ugliest paragraph
Media Player Error
Update your browser or Flash plugin
… 4) EVIDENCE THAT MUHAMMAD HAD SEX WITH AISHA PRIOR TO HER FIRST MENSES
…MORE PHYSICAL DAMAGE TO YOUNG GIRLS
Modern medicine teaches that a female's body is
not
fully developed at age 9.
Sexual intercourse at that age could damage a female's sexual organs
. For instance, at the age of 9 years old, the cervix of the female is yet undeveloped, as are many of the child's sexual organs. Further, intercourse at this age leads to an 80% increased risk in her developing cervical cancer later in life.
PSYCHOLOGICAL DAMAGE TO YOUNG GIRLS….
click to zoom …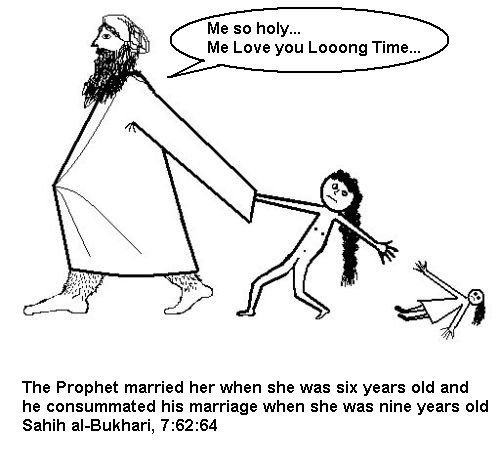 Aisha: The Child Bride of Muhammad "… The thought of an old man becoming aroused by a child is disturbing. The only name for that is pedophilia – one of the most despicable crimes imaginable"
Sahih Bukhari Volume 7, Book 62, Number 64

Narrated 'Aisha:

that the Prophet married her when she was six years old and he

consummated

(nice word for raped) his marriage when she was nine (lunar)years old, and then she remained with him for nine years (i.e., till his death). Forced marriage

: A

six

-year-young child does not know

what the word "

marriage

" means

In Arab countries a women has to

consent

her marriage,

or it is NULL & VOID

"… Silent children" Bukhari Book 62, Number 67, 68 '… I said, "O Allah's Apostle! A virgin feels shy." He said, "Her consent is (expressed by) her silence." '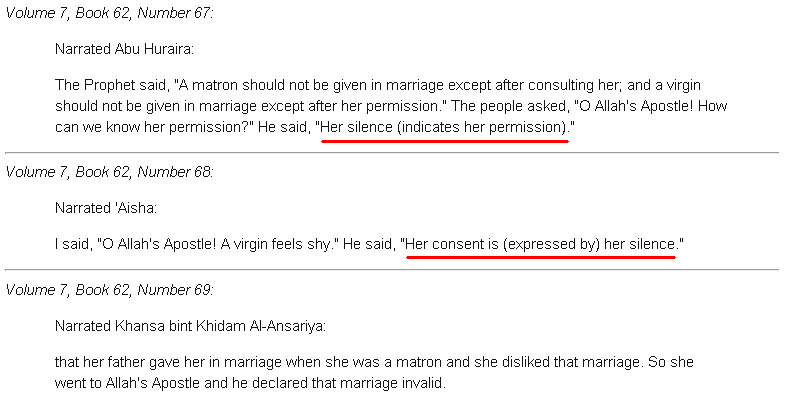 "Chapter 9: SEEKING CONSENT OF AL-THAYYIBIN MARRIAGE IN WORDS AND OF A VIRGIN IN (MEANINGFUL) SILENCE" :: Sahih Muslim Book 8, Number 3303, 3305
Please read between the lines: The Pedophile Muhammad talks only about "fondeling" — no sex! He was (very likely) impotent in his latest years but still have sexual feelings
Bukhari Book 59, No. 382, Book 38, Number 504

Bukhari, Wedlock, Marriage (Nikaah), No. 16, 17, 18
Muhammad IN CONTRAST to sane Arab men Bukhari Volume 3, Book 38, Number 504 '… He [Pedo Muhammad] said, "Why have you not married a virgin to fondle with each other?" I (sane Arab man) said, "My father died and left daughters, so I decided to marry a widow (an experienced woman) (to look after them)." …' & Muslim Book 8, Number 3459-3464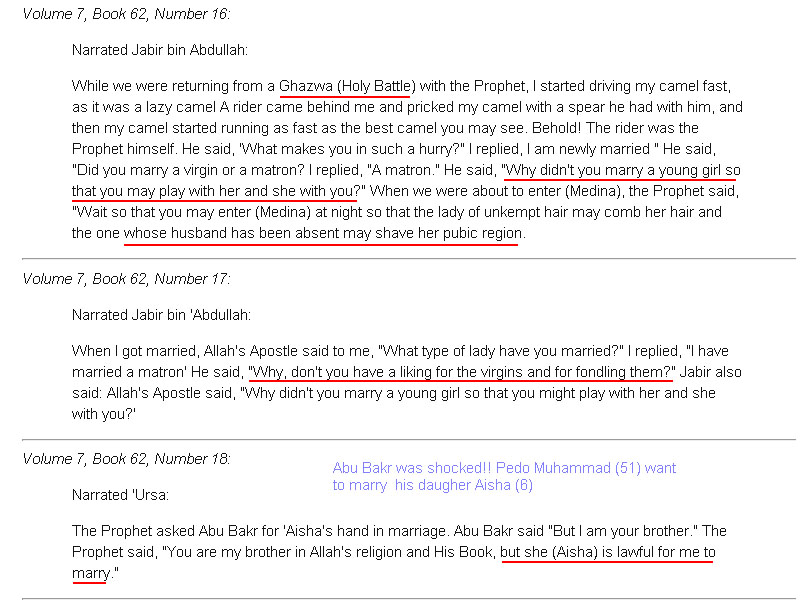 Dr. Ahamad Al-Mu'bi
Saudi Marriage Officiant
LBC TV (Lebanon)
June 19, 2008
Qur'an 65:4
youtube
Media Player Error
Update your browser or Flash plugin
Pedophilia in the Qur'an
…Therefore, the exact translation of this portion of Qur'an 65:4 is "
Not menstruated yet
" ( لَمْ يَحِضْنَ ). In Arabic, the menstruating process is called HAIDH ( حيض ). It is possible to turn this noun into its verb form. Like we do it with menstruation, "menstruate" is YAHIDH ( يَحِض ). But it is LAM ( لَمْ ) that appears before YAHIDH and the NA ( نَ ) associated with YAHIDH
and this puts Islamic apologists in a quandary
because it cannot have any other meaning
than "Not menstruated yet". This is the appropriate English translation….
Allah allows sex with pre-puberty kids! (65:4, in addition 33:49
… not in "context"
Bahraini women's rights activist
Ghada Jamshir
- Aired on Al-Arabiya TV on December 21, 2005
(full interview, 5:10 min)
Media Player Error
Update your browser or Flash plugin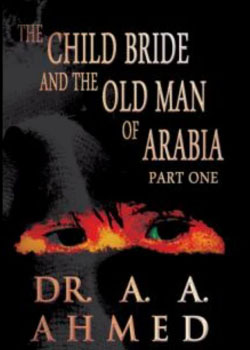 Amazon: The Child Bride and the Old Man of Arabia: Part One [Hardcover]
Dr. A. A. Ahmed (Author)
youtube
Thighing of children:
Mohammed (51) married Ayesha when she was
SIX
, but as she was too small to consumate, he practised the sacred rite of
Mufa' Khathat
(otherwise known as 'thighing')
whereby he rubbed himself between the tops of her thighs, but did not enter, until she was nine
(lunar years)
. …"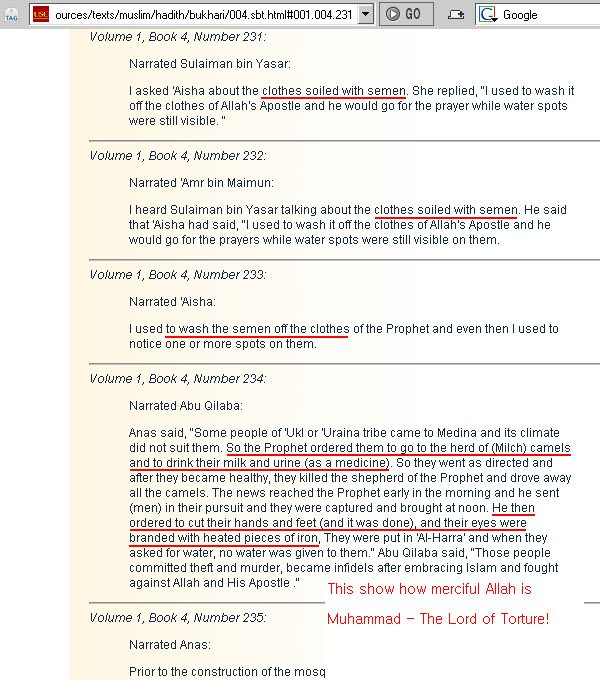 "(Print) "A Complete Guide to Pedophile in Islam" 168 KB
"… We must reach the Muslim youth before the Jihadists reach them"
tafsir.com on [Tafsir Abu-Hayyan. On Quran 65:4]

46 KB
The Tafsirs 65 At-Talaq

131 KB
Dr. Homa Darabi Foundation — "Mohammad The Pedophile"

36 KB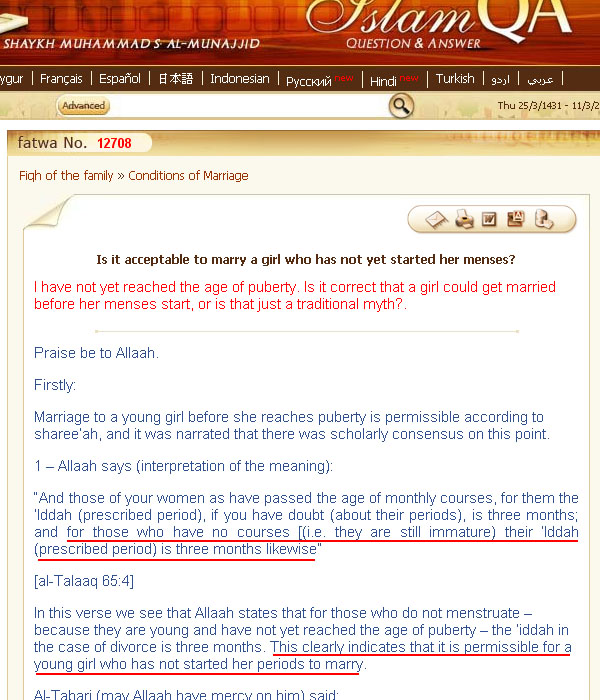 -1:27 min Italy leader Daniela Santanchè, "Muhammad was a pedophile"
Media Player Error
Update your browser or Flash plugin
Media Player Error
Update your browser or Flash plugin