Adolf Hitler, in his Mein Kampf, wrote: "The broad mass of a nation will more easily fall victim to a big lie than to a small one."
If anyone should have known the power of the big lie and that the bigger the lie is the more believable it sounds, it was Hitler. Another good statement is that of George Orwell, author of
Politics and the English Language
. He wrote: "Political language ... is designed to make lies sound truthful and murder respectable and to given an appearance of solidity to pure wind."
[286]
Why big lies are so convincing? It's because an ordinary person generally does not dare to tell a big lie
. He fears that it would not be believed and that he would be derided. And since everyone has heard or has said a few white lies, most people generally recognize them when they hear one. The big lies are so oulandish that they often startle the listener. Most people are not equipped to process them adequately.
When the lie is colossal
, the averege person is left to wonder how anyone can have the audacity, the impudence to say such a thing.
You are left with the difficult decision between three extremes: The person, who is saying this, must either insane, a charlatan or he must be telling the truth
. Now, what if for any reason, such as your reverence for this person, his charisma, or your commitment to him, you can't bear the thought of repudiating him and accept the fact that maybe he's indeed insane, a quack? Then you force yourself to believe in whatever he tells you even if what he says makes no sense at all.
The big lie offsets the scale of our common sense. This is not unlike like loading a scale that is made to weight
kilos
with
tons
. It stops showing the correct weight. The indicator may even stop at zero.
Hence, Hitler was right. The big lie is often believed more than a small lie
.
When Muhammad recounted his tale of ascending to the seventh heaven, Abu Bakr was at first taken aback. He did not know what to make of this. This sounded utterly mad
. He had two choices: either to admit that his trusted friend, whom he respected so much and by following him had endured ridicules is a crackpot, or believe in his fantastical tales and whatever else he might say. There was no middle ground for him.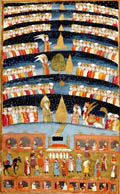 Ibn Ishaq says when Muhammad made his vision known, "many Muslims gave up their faith. Some people went to Abu Bakr and said, 'What do you think of your friend? He alleges that he went to Jerusalem last night and prayed there,
______________________
179