"... We must reach the Muslim youth before the Jihadists reach them"
Walid Shoebat
Former PLO terrorist:
09:30
"The secular dogma of Nazism was less dangerous than the Islamo fascism we see today, less dangerous, because Islamo fascism has a religious twist to it, it is God almight ordering you to do this, not the Führer.

So it is way more dangerous, it is trying to grow itself in 55 Muslim states, so potentially you could have a success rate of several Nazi Germanys if these people get their way."
Abu Izzadeen
, spokesman for Al Ghurabaa:
"No Kuffar (unbeliever) is innocent"
Quran Chapter 65 Verse 4
amazon.de
amazon.com
amazon.co.uk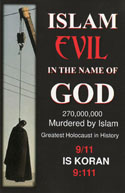 page ix
"... This young man and the 2,972 were murdered so their 19 Muslim killers who
"fight in the way of Allah and shall slay and be slain" (Q.9:111)
could ascend to Paradise. Inheed, the only way Muslim men can be guaranteed accession to Paradise is to slay or be slain in the service of God"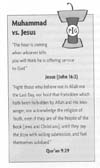 Sample Chapters:
Jihad is an obligation from Allah on every Muslim and cannot be ignored nor evaded. Islam is a dangerous political-military ideology with religious trappings masquerading as a religion intended on conquering the world for imaginary Allah (the AntiGod).
Only 10% of Islam has anything to do with religion, the other 90% is political. The Koran is a declaration of war against the kafirs.
This war is permanent until ALL kafirs have converted to Islam, or are in dhimmitude (institutionalized discrimination akin to second class slavery status) or have been murdered or enslaved – a cold-hard reality for the hear-no-evil, see-no-evil, do-nothing-about-evil naive kafi
Kafirs are vile sub–human beings. They have zero humanity. ..."
(Page xix, Preface)

Chapter 15 & 16 "Allah Is A Barbaric Barbarian" (552 KB)

Chapter 12 "NECROPHILIA WITH HIS DEAD AUNT" (201 KB)

Chapter 10 & 16 "Muslim Women Are Sex Object For Men's Enjoyment" (1.1 MB)

Chapter 13 & 14 "The Pedophile Monster is Muhammad" (513 KB)
CHAPTER TWENTY ONE "TEACHING ISLAM TO CHILDREN IS CHILD ABUSE"

pdf file (1.3 MB)

"Barack Hussein Obama Americas First Muslim President" (288 KB)

"Colin Powell The Ultimate Dhimmis Dhimmi" (630 KB)

"Sharia Law Will Be The Rule Of Law" (828 KB)

"America And Europes Future Dhimmihood" (932 KB)
"ISLAM EVIL IN THE NAME OF GOD"
Page 330
Tonight, Western Civilizations is under assault by it's own political, religious, intellectual, media elites who are demonizing Jesus, Christianity, Judaism, in an attempt to expunge all vestiges of what made the West - the West from our free societies and allying themselves with this very great evil - Islam. They are coating themselves in this evil and driving the Islamization of the West. These elites are utilizing thr Rule of Law to impose Sharia Law as the Rule of Law.

"Both (Antichrist & Islam) Attempt to Change The Law" (179 KB)
,
"God's War on Terror!"
President Roolsevelt said in his 1932 inaugural address "Only Thing We Have To Fear Is Fear Itself."