VIDEO: So tolerant to little girls & boys
… pedo allah allows
to marry 1-day-old(!!) infant girls
65:4
& give
free way
to molest young boys
52:24
… the ugliest ayahs!
13 min "… HOW in the world can Muhammad be a Prophet of God?"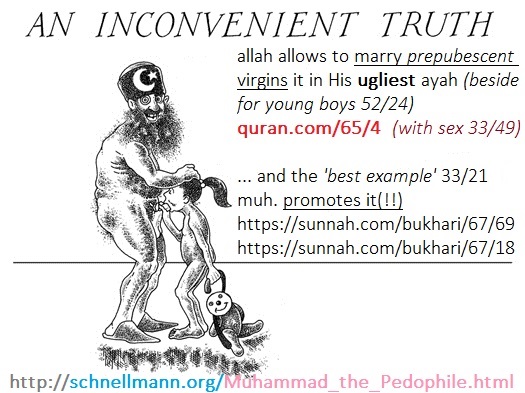 GIRLS IN PUBERTY DON'T PLAY WITH DOLLS,
"… and he was taken to his house as a BRIDE when she was nine (lunar yrs.), AND HER DOLLS WERE WITH HER;" Hadith 3311
Motto of dangerous goodies, "So colorful."
Media Player Error
Update your browser or Flash plugin