Girl, 12, drops divorce request from 80-year-old husband
PDF 46 KB
The Tafsirs 65 At-Talaq
PDF 131 KB
Source: David Wood
AnsweringMuslims.com
11:50 - 13 min 'lack of references syndrom'
- i.e. NOT mention ONE trusted reference to a Muslim scource!
(at/after 13 Min: hardcore Qur'anic facts e.g. 65:4)
13:00 - 18.00
fatwa No. 12708
"…and for those who have no courses [(i.e. they are still immature) their 'Iddah (prescribed period) is three months likewise"
[al-Talaaq 65:4] ..."
"Sharia, Child Brides & Child Abuse"
... only following the
Khayru-l-Khalq
(the Best of Creation) & excellent example (33:21) Muhammad 54 sex with the little girl Aisha 8 (9 lunar years),
who played after her sex with dolls
... girls in puperty do not play with dolls!!!
Nauseating Child-Sex in the Muslim Societies
"... From the hadith of the Sunan of Abu Dawud, volume 2, #2116
'Aisha said, "The Apostle of Allah married me when I was seven years old." (The narrator Sulaiman said: "Or six years.").
"He had intercourse with me when I was 9
(lunar)
years old."
… 4) EVIDENCE THAT MUHAMMAD HAD SEX WITH AISHA PRIOR TO HER FIRST MENSES
… MORE PHYSICAL DAMAGE TO YOUNG GIRLS
Modern medicine teaches that a female's body
is not fully developed at age 9. Sexual intercourse at that age could damage a female's sexual organs.
For instance, at the age of 9 years old, the cervix of the female is yet undeveloped, as are many of the child's sexual organs. Further, intercourse at this age leads to an 80% increased risk in her developing
cervical cancer
later in life.
PSYCHOLOGICAL DAMAGE TO YOUNG GIRLS …'
No 'iddah (also for Pre-Puberty Kids)
when you do not thouched them (in a sexual way)
Qur'an Al-Ahzab 33 Verse 49
'iddah for Pre-Puberty Kids
when you have touched them (in a sexual way)
Qur'an 65:4, At-Talaq (Divorce)
Allah allows Sex with Pre-Puberty Kids! (Q 65:4 + 33:49) 65:4 is the most ugliest & filthiest Sura of the Shit Quran ... it allows pedophilia! THAT'S ENOUGH TO SAY: "ISLAM IS A PERVERT MEN CLUB"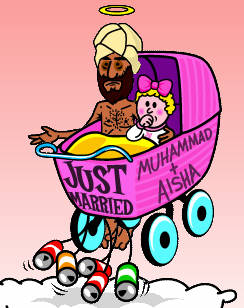 Chapter 21 "Teaching Islam To Children Is Child Abuse"
PDF 1.3 MB
Media Player Error
Update your browser or Flash plugin
4 aya 65 الطلاق
"... Allaah says, describing several Alaisp which is interrupted by menstruation how big it is three months instead of three menstrual periods in the right menstruate as evidenced by any cow,
as well as young women below the age of menstruation that Dhn as various Alaisp three months
"
(period for divorce)
Google Translate
Aisha was too young (a child of 6 years) to know what marraige is about. In Arabia a woman has to consent her marriage or it is null & void!
Thighing of children: Mohammed married Ayesha when she was six, but as she was too small to consumate, he practised the sacred rite of Mufa' Khathat (otherwise known as 'thighing') whereby he rubbed himself between the tops of her thighs, but did not enter, until she was nine (lunar years). …"