Islamic Quotes - Terrorism
Islam & Terrorism

250 KB
"The Prophet Muhammad as a Jihad Model" (video) Yusuf Al-Qaradawi (1926 - ) Global leader & Chief lunatic (i.e. devout Muslim) of the Muslim Brotherhood
… Tafsir Ibn Kathir is famous all over the Muslim world and among Muslims in the Western world, is one of the most widely used explanations of the Qu'ran today….
(certainly for beginners) The Quran is "easy to understand" 44:58, 54:22, 54:32, 54:40 "no doubt" 2:2 in it 32:2, 3 "…which there is no doubt"

680 KB IBN KATHIR (D. 1373) "Paying Jizyah Is a Sign of Kufr (unbelieve) and Disgrace"
Ali Sina, page 166 "… this is how the Mafia operates"
Nasheed video: (04:30) Aha! The word terrorist can be a good word for Muslims
"Terrorist of oppression"
what a BULLSHIT
Muslims are
kidding the kuffar
(unbelievers)
Sharia law is evil!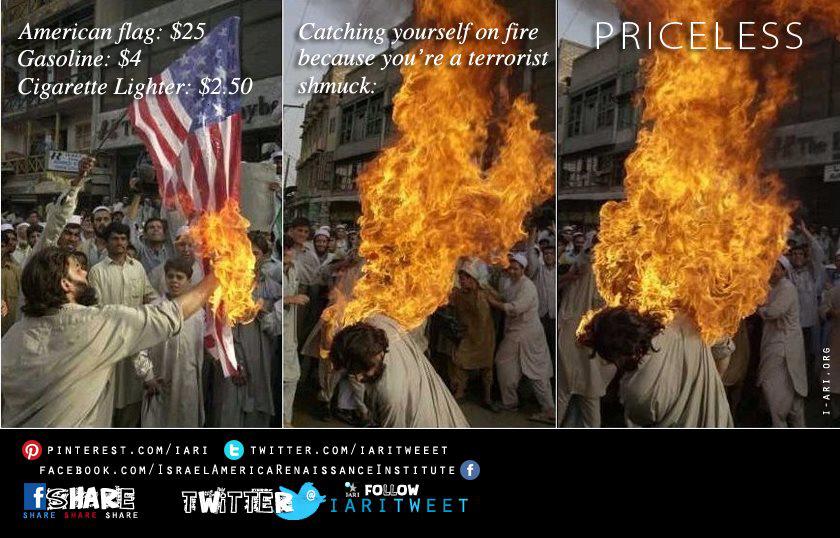 click to zoom ¬
ALLAH WILL CONQUER & DOMINATE THE WORLD
BLACK FLAGS OF JIHAD — Mahdi Army will come from region of KHORASAN (primarily Afghanistan)
2:20 "… there is a large scale of deception … 3:28, 16:106" (taqiyyah)
a short course, part 5 taqiyya: A Concept of Deceit that Security Professionals Must Know
1:10 (1.) Convert to Islam,
(2). live as dhimmis under Islamic rule (pay jizyah, high protection tax),
...or (3.) are in war with Islam to 9:29
(9:1-9:29 are the latest Medina jihadi surahs
spoken by Muhammmad after he was poisoned)
Offensive jihad 'talab':
9:29 "Fight those who do not believe in Allah"
9:5 "KILL the unbelievers (mushrikun, associate partners with Allah, e.g. Trinity of Christians) wherever ye find them"
Ibn Kathir: "...means, on the earth in general"
mushrikûn, "associators" actually were (Trinitarian) Christians
21 KB
The assassinations of satirical poets in early Islam
click to zoom ¬
9:111 "slay (98:6) and are slain (98:7)" for promised paradise "… that is the achievement supreme."
… which fulfills 9:5 + 9:29
Destroy the Qur-ân, or be destroyed by it!
Allah declares war on every non-Muslim (after 1st option 9:6 invitation to Islam), who 7:103 "reject his signs(Quran)" —> 5:33 "… main for MISCHIEF through the land is: execution, or crucifixion, or the cutting off of hands (Q5:38-40) and feet from opposite sides, or exile from the land"